2019 Monster Mash 10/26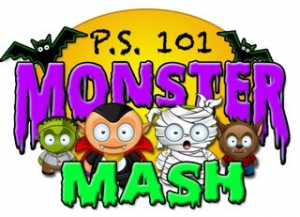 Monster Mash, PS 101's amazing Halloween party, is right around the corner on Saturday, October 26th. There will be giant slides, bouncy houses, lots of fun games with prizes, a craft table, the infamous "Zombie Pen", music, fun and MORE! This has quickly become one of our school community's biggest events!
Buy Tickets Here
Sign Up to Volunteer Here.

We Can't Do This Without You!
We've got a great core committee and lots of enthusiasm, but we CANNOT make this happen unless we get sufficient volunteer coverage.
Use the Buddy System! If you buddy up with a friend, you can take turns as a volunteer team. One can watch the kids and have ghoulish fun while the other helps run the show for an hour, then switch! We need people for all levels: set-up, minding game stations, baking goods, cleaning-up afterward. Every volunteer also gets in for free. Volunteer here!
If You've Already Volunteered, Thank You! Help Us Recruit. Talk up the idea of Monster Mash at drop-off and pick-up.
"Hey, did you sign-up yet for Monster Mash? No!? OMG, you better hurry -- it's awesome but they need volunteers!"